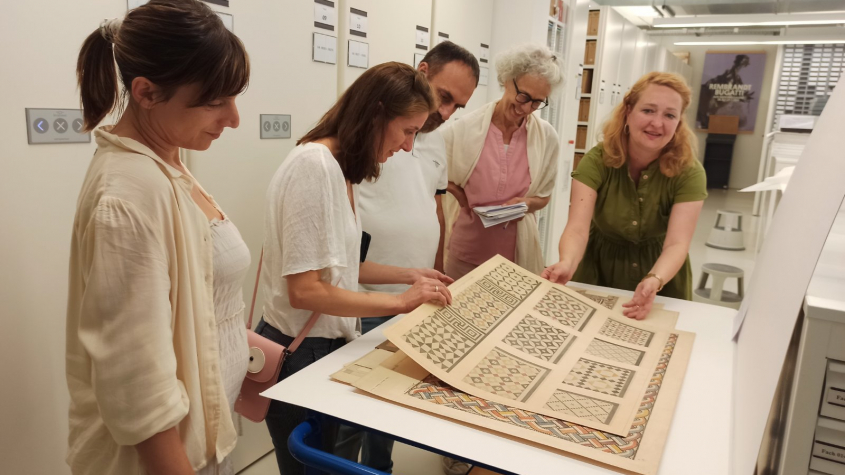 Guests from Greece: Study visit and staff exchange between the Stabi and the National Library of Greece
Four staff members from the National Library of Greece visited the Stabi from the 10th to the 21st of July in the framework of the Erasmus+ European Mobility Project for staff exchange.
Greek colleagues were offered valuable insights into the Stabi collections, activities and services that acted as a source of inspiration for their work. They also studied material from its collections and exchanged know-how in order to improve and upgrade their own practices. The highlights of  the visit were the following:
Guided tours of the library buildings, the reading rooms and other library areas both in Unter den Linden und in Potsdamer Straße
Presentations of the Stabi structure, departments, services and staff
Overview of the Stabis communication strategy, events and workshops
Discussion about "Culture and Libraries" with colleagues from the Stabi and a delegation from the National Library of Israel
Visit of the Kulturwerk, the Museum Archives of the Staatliche Museen zu Berlin belonging to the Prussian Cultural Heritage Foundation and the Deutsches Historisches Museum, in particular the Wolf Biermann exhibition, which drew upon the personal archival material of the Stabi
Expertise exchange on how special collections are managed, on the policy for loan exhibtions, cataloguing and digitisation of manuscripts.
Insight into the librarys' special collections, in particular the collection of old and rare publications, the private archives and autographs, the map collection as well as the engravings collection
Detailed discussions on representative items such as the archives of the publishing houses, in particular the archive of Wagenbach's publications, the Stabis various databases and union catalogues
The Greek team is thankful and very much looking forward to receiving the staff members of the Stabi in autumn at the National Library of Greece in Athens!
https://blog.sbb.berlin/wp-content/uploads/aiµny_Viber_2023-07-25_11-03-17-897.jpg
1201
1600
Pia Beckmann
https://blog.sbb.berlin/wp-content/uploads/stabi-logo-kante.png
Pia Beckmann
2023-09-05 09:30:09
2023-09-05 10:40:43
Guests from Greece: Study visit and staff exchange between the Stabi and the National Library of Greece