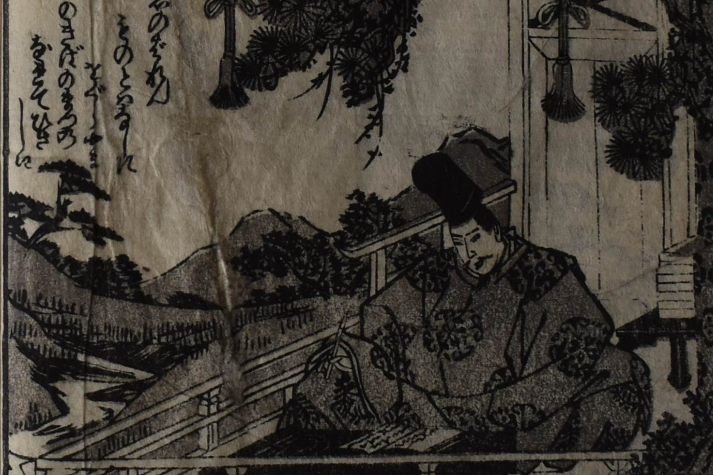 Public Domain
"Hyakunin isshu" and the Hiroshige studio: Utagawa Hiroshige and "Hyakunin isshu jokunshō"
Gastbeitrag von Dr. Freya Terryn
Nicknamed the 'artist of mist, snow, and rain', Utagawa Hiroshige 歌川広重 (1797–1858) is one of the leading creators of the landscape imagery in Japanese woodblock prints, or ukiyo-e 浮世絵. In the 1830s he made a name for himself in the genre of topographical views, starting with his meisho-e 名所絵: prints recording famous places of Edo (now Tokyo). His decisive breakthrough followed with his prints depicting the various stations along the Tōkaidō road, a travel route connecting Kyoto with Edo, and with his prints showing landscapes of the various provinces. Nor should we forget that he was also prolific in prints of birds and flowers, actors, beautiful women, historical figures, prints of humorous content, and he made an abundant number of designs for fan prints.
Like many ukiyo-e artists, Hiroshige also created illustrations for books. It is said that he worked on more than 120 illustrated books and illustrated at least 50 kyōka anthologies. Kyōka 狂歌 (literally 'mad/crazy verse') are parodic or humorous renditions of traditional waka 和歌, Japanese poetry in a 5‑7‑5‑7‑7 meter. Hiroshige displays a close affinity to this genre of poetry as his first printed work consisted of book illustrations for a collection of kyōka, entitled Kyōka Murasaki no maki 狂歌紫の巻 (The Murasaki Book of Witty Poems), published in 1818. Hiroshige's connection to Japanese poetry continued throughout his career and also manifested itself in the pictorialization of the classical Japanese anthology One Hundred Poets, One Poem Each (Hyakunin isshu 百人一首; henceforth Hyakunin Isshu). Such an example is the illustrated woodblock-printed book Hyakunin isshu jokunshō 百人一首女訓抄 (Annotated Lessons for Women of One Hundred Poets, One Poem Each; Fig. 1).
This book is the subject of a research project that explores the connection between the Hyakunin Isshu and the Hiroshige studio. More specifically, this project looks at how the Japanese woodblock print artists Utagawa Hiroshige and his successor Utagawa Hiroshige III 三代歌川広重 (1842–1894) interpreted the Hyakunin Isshu in books illustrated with woodblock prints (ehon 絵本). With a grant awarded by the Stiftung Preußischer Kulturbesitz (Prussian Cultural Heritage Foundation), I consulted Hiroshige's book Hyakunin isshu jokunshō in the collection of the Staatsbibliothek zu Berlin (Berlin State Library; henceforth SBB), in July 2022. The SBB is to my knowledge the only collection in Europe that houses a copy of this book. During my time at the SBB, I conducted a close analysis of the book's bibliographic data, its physical properties and component parts, while placing the book in the history of the visual and textual representation of the anthology.
Hyakunin isshu jokunshō was originally published in 1848 and proved popular enough to be reprinted three times: in 1849, 1851, and 1858. The book was a product of the highly commercial world of Japanese printmaking, and as a book illustrated with woodblock prints it was conceived, designed, published, and distributed by representatives of many different trades and professions working in collaboration. Today we can identify three parties who were involved in the book's production, namely the publisher, the visual artist, and the writer. Other parties, such as the papermakers, binders, block cutters, and printers, remain anonymous.
The publisher of Hyakunin isshu jokunshō is Honya Matasuke 本屋又助 (dates unknown). While next to nothing is known about this publisher, an analysis of the back matter of the book's   copies from 1848, 1849, 1851, and 1858 does shed more light on his activities as a publisher and with what intention he published this book. As the back matter of Japanese books often reveals imprint information and contains the publisher's catalog that records forthcoming titles and books currently on sale, it is possible to reconstruct the timeframe and content of the publisher's activities. So far, I have been able to analyze back matter of digitized copies dating from 1849 and 1851 and the SBB copy (shelf mark: 5 A 230984 ROA), which is a reprint from 1858. Unfortunately, 1848 copies are rare and can only be found in collections in Japan — which remain, for now, undigitized.
From this analysis it is clear that Honya Matasuke was primarily active in the 1840s and 1850s as a publisher who issued books ranging from educational topics – for young children in general as well as aimed specifically at girls –, literary works, and illustrated books of sumo wrestlers and warriors to painting and drawing manuals. In addition, advertisements for the book included in copies from 1849 and 1851 confirm that this particular Hyakunin Isshu project was devised as an illustrated book for children and women to learn and easily understand waka poems by means of the annotated descriptions accompanying them.
Honya Matasuke was able to achieve this educational objective with the layout of the poems. As demonstrated by Fig. 2, which introduces on the right the poem composed by Emperor Jitō (Jitō tennō 持統天皇; 645–703; reign 686–697) and on the left the poem by Kakinomoto no Hitomaro 柿本人麿 (c. 653–655-c. 707–710), each page consists of a long vertical strip that contains the poem – which, with its shape, represents the tradition of composing poems on long narrow strips of colored paper –, followed by an annotated description explaining the meaning of the poem and an imaginary portrait of the poet below it. Especially the annotated descriptions were crucial for many readers to comprehend the meaning of the poem as the Hyakunin Isshu represents the history of Japanese poetry from the seventh century down to the time of Fujiwara no Teika 藤原定家 (1162–1241), who is accredited with selecting the poems. Thus, these poems contain poetic language that was at least four centuries old and that was often difficult to interpret. To provide readers with the correct interpretation of each poem, Honya Matasuke employed Yamada Tsunenori 山田常典 (1808–1863), a writer and waka poet who had received a rigorous training in waka poetry and other Japanese literary classics, making him the ideal candidate to write annotations for this Hyakunin Isshu project.
Next to Yamada Tsunenori, Honya Matasuke also employed not one but two visual artists. One artist was tasked with illustrating the imaginary portraits of the poets, for which the artist employed the formula of representing the poets as invariably seated figures on a raised platform with a decorated edge (Fig. 2). Similar to other illustrated books that used this formula since the 1660s, these portraits omit the signature of their maker. Therefore, it is impossible to know the identity of this artist.
The other artist Honya Matasuke employed was Utagawa Hiroshige. The presence of his signature confirms that he was tasked with illustrating eight folded sheets that were placed before the main bulk of the book that educates its readers on the one hundred poems and their interpretation (Fig. 3). From the content of these illustrations it becomes clear that Honya Matasuke intended to expand the content of the book by dedicating illustrations to The Tale of Genji (Genji monogatari 源氏物語, early 11th  entury), The Tales of Ise (Ise monogatari 伊勢物語, c. 980), and silkworm cultivation. Hiroshige's illustrations also introduce other waka poets and poems, such as the 12 poets from the Collection of Japanese Poems of Ancient and Modern Times (Kokin wakashū 古今和歌集, 905), poems relating to The Eight Views of Ōmi (Ōmi hakkei 近江八景, 15th–16th century), and specifically introduce Murasaki Shikibu 紫式部 (c. 973/978–c. 1014/1031), the author of The Tale of Genji, and Fujiwara no Teika.
This deviation from the core of the Hyakunin Isshu was not irregular because with the inclusion of these additional pages, Honya Matasuke succeeded in presenting this book as an ōraimono 往来物. As a result, Hyakunin isshu jokunshō can be labeled as a book belonging to the genre of instruction manuals issued for teaching children how to read and write and to the genre of conduct books aimed at female readers in particular. Thus, perfectly matching with Honya Matasuke's objective for the book.
The consultation of Hiroshige's book at the SBB has greatly enriched my research on the connection between the Hiroshige studio and the Hyakunin Isshu. My research stay allowed me to work on my transcribing skills and to learn more about Hiroshige and his illustrated books. I have presented preliminary findings of this research project on three occasions: an online presentation for the Berlin State Library on November 3, 2022; at the academic conference Book Historical Forum VI at the University of Leuven on November 25, 2022 (in Dutch); and at the seminar series 'Culture in Perspective: South and East Asia' at Ghent University on March 14, 2023. Currently I am still conducting research on this project and plan to consult an 1848 copy in a Japanese collection in the near future. Updates on this research will be revealed on my personal website and on Twitter.
Bio:
Dr. Freya Terryn is a postdoctoral researcher in Japanese Studies at the University of Leuven (KU Leuven, Belgium) and specializes in Japanese visual and print culture of the nineteenth century. With the support of a PhD Fellowship from the Research Foundation Flanders, she recently completed her PhD in Japanese Studies at the University of Leuven. She currently teaches courses on Japanese culture, art history, classical Japanese grammar, translation from Japanese to Dutch, and academic writing. When it comes to research, she is enthusiastic about the arts and material culture of eighteenth- and nineteenth-century Japan, with a particular focus on prints, illustrated books, and paintings. She also explores issues relating to artistic and commercial collaboration, the interaction between governing bodies and artists, pictorial quotation, exhibition culture, Japonisme, and the formation of Japanese art collections in Europe.
Der Beitrag erscheint auch auf CrossAsia.
Frau Dr. Freya Terryn, KU Leuven, war im Rahmen des Stipendienprogramms der Stiftung Preußischer Kulturbesitz im Jahr 2022 als Stipendiatin an der Staatsbibliothek zu Berlin. Forschungsprojekt: "The One Hundred Poets, One Poem Each across generations: A case study of picture-and-poetry books illustrated by Hiroshige and Hiroshige III"
Online-Werkstattgespräch zu dieser illustrierten Ausgabe am 3. 11. 2022
https://blog.sbb.berlin/wp-content/uploads/first-image.png
604
713
Susanne Henschel
https://blog.sbb.berlin/wp-content/uploads/stabi-logo-kante.png
Susanne Henschel
2023-05-17 16:32:26
2023-05-22 14:51:52
"Hyakunin isshu" and the Hiroshige studio: Utagawa Hiroshige and "Hyakunin isshu jokunshō"