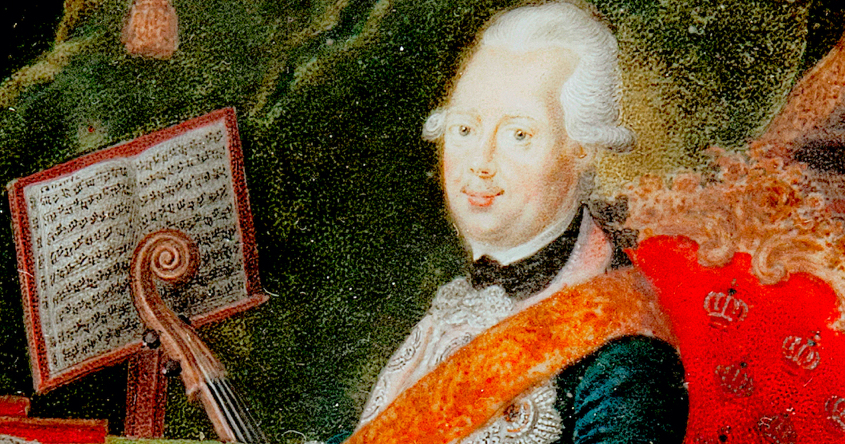 . Photo: Ⓒ Linn Ahlgren/Nationalmuseum
The Violoncellist King: Discovering the musical world of King Friedrich Wilhelm II (1744–1797) through his music libraries
Gastbeitrag von Alexander Nicholls
The musical activities of Friedrich Wilhelm II of Prussia and his court, which were of great significance for Prussia's cultural development, have been only partially examined by musical scholars and scarcely at all by historians. My doctoral research focuses on the violoncello performance practices of Friedrich Wilhelm as found in his personal performance materials currently housed at the Staatsbibliothek zu Berlin.
The SBB stipendium has enabled me to undertake a thorough, systematic study of the music manuscripts and letters of Friedrich Wilhelm through various cultural institutions within Berlin. This study allowed me to collect the materials for my PhD, and gain a life changing experience through interacting with these historical artifacts.
Friedrich Wilhelm's musical upbringing coincided with the zenith of performance, compositional output and treatise publication of Frederician Berlin. Amid this stimulating cultural environment created by his uncle, Friedrich Wilhelm commenced his music lessons on the Viola da Gamba with the Berlin court gambist Ludwig Christian Hesse (1716–1772). With Hesse, Friedrich Wilhelm studied the operas of Johann Adolf Hasse (1699–1783) and Carl Heinrich Graun (1704–1759), as well as viol literature from the French masters (including the works of Marin Marais (1656–1728)).
While on campaign during the last years of the Seven Years' War (1762/63), Friedrich Wilhelm began to play the violoncello. His relationship with this instrument flourished over the following 10 years, and upon the retirement of Hesse in the 1770s, he began lessons with Italian virtuoso Carlo Graziani (c. 1720­–1787), and French virtuoso Jean-Pierre Duport (1741–1818) – under whose guidance he became a skilled cellist.
It is around this time that the Mannheim composer Carl Stamitz (1745–1801) came into contact with Friedrich Wilhelm's cello playing, commenting to Ernst Ludwig Gerber (1746–1819) for his dictionary of musicians Historisch-Biographisches Lexicon der Tonkünstler that
"[Friedrich Wilhelm's] performance of the Adagio is perfectly worthy of his great teacher [Jean-Pierre Duport] and often very masterful in itself".
As Prince and then King of Prussia, much of Friedrich Wilhelm's spare time was spent playing concerts, interacting with musicians, and supporting the composition of new works – including works that continue to be performed today ­–, for example the Prussian quartets of Mozart and Haydn, as well as Beethoven's first two violoncello sonatas (Figure 1).
Friedrich Wilhelm's manuscript collection demonstrates his diverse interaction with musicians from across Europe, as well as his personal study under instrumentalists from different musical nations. His kapellmeister Johann Friedrich Reichardt (1752–1814) commented in the 1790s that the King
"declares himself to have no exclusive taste in music, but allows works of all kinds from all schools and styles to be performed".
The collection as it appears today indeed shows this statement to be true, through the preservation of a great number of genres and composers.

The performing parts collected and used by Friedrich Wilhelm over a 40‑year period which have remained in Berlin can be traced through four sources:
The 1795 catalogue of his collection.
The 1895 catalogue of the Prussian Royal family collection.
The copy of this catalogue in the Staatsbibliothek (Mus LS Bb 1220) which indicates the works still held in Berlin that have survived the Second World War.
The general collection of the Staatsbibliothek zu Berlin.
The first and only surviving eighteenth-century cataloguing of this collection was undertaken in 1795 by Friedrich Wilhelm's court librarians (Figure 2). While this list does not contain every work owned and played by Friedrich Wilhelm, it was an excellent starting point to determine what was being performed by the King and his musicians.
During the course of the nineteenth century, Friedrich Wilhelm's music manuscripts were amalgamated into the larger collection of manuscripts owned by the Prussian royal family, catalogued by librarian Georg Thouret (1855–1924) as a part of the 1895 Katalog der Musiksammlung auf der Königlichen Hausbibliothek im Schlosse zu Berlin.
To disentangle Friedrich Wilhelm's collection from those of his family, I undertook a comparison of these two catalogues (1795 & 1895), which enabled me to get a relatively accurate picture of Friedrich Wilhelm's collection as it existed during his lifetime. However, not every work played by Friedrich Wilhelm made it into the 1795 and 1895 documents. To address this issue, the search terms "violoncello", "violoncell" and "violoncelle" were applied to the 1895 catalogue, and music associated with Friedrich Wilhelm's court was searched for in the general holdings of the Staatsbibliothek. This process resulted in the discovery of several cello concertos, cello sonatas, quartets, and symphonies, not usually associated with Friedrich Wilhelm's collection or use.
The comparison between the two catalogues also yielded some interesting discoveries regarding what left the collection during the nineteenth century. For example, an almost complete set of Haydn string quartets (20 entries), as well as the Prussian and Neapolitan Quartets of Pleyel (8 entries) were removed during this period.
Over the three-month period of my archival studies I managed to review and document all the manuscripts that were directly associated with Friedrich Wilhelm. Through this process I was able to construct a comprehensive catalogue for my doctoral studies. This list of works outlines an impressive 2,432 catalogue entries of instrumental parts within the former Königliche Hausbibliothek collection . Unfortunately 682 of these entries listed among the works have been lost during or shortly after the Second World War.
The SBB Stipendium also enabled me to access other Preussicher Kulturbesitz institutions. As it was only possible to view a limited number of sources per day – sometimes generously extended by the librarians with regard to the larger symphonic sets of Dittersdorf, Sperger, and Rosetti – I spent the rest of my days at the Geheimes Staatsarchiv in Dahlem. Through the collections of Friedrich Wilhelm's correspondence with musicians, family, and friends, I was able to discover more about his cello studies with Graziani, their relationship, and the nature of their cello lessons.
By comparing an account of a cello lesson (Figure 3) written to his mistress and confident the Gräfin von Lichtenau Wilhelmine Enke (1752–1820), and the virtuosity of a piece of music composed for Friedrich Wilhelm by Graziani (Figure 4) from around the same period, it is possible to gain a better understanding of Friedrich Wilhelm's performing abilities and the time and effort he put into his study of music.
"I have been playing with Graziani on the violoncello and have been working so hard that my hairband came off and all my hair flew around my head and all the powder and pomade and sweat melted on my head, now I must have my hair done again and put on another shirt, as my body is soaked in sweat"
– Letter to Wilhelmine Enke, c. 1780
The documents at the Staatsbibliothek and Geheimes Staatsarchiv studied during my residency provide a vivid insight into the musical life of Friedrich Wilhelm II. The aim of my PhD research is to further our understanding of eighteenth-century violoncello performing practices through the evidence provided in the manuscript collection of one of the most important eighteenth-century violoncellists – Friedrich Wilhelm II. Through understanding his playing, we might come to understand not only how the compositions written for him were intended to have been performed, but also how a cellist of his time might have performed solo, chamber, symphonic, and operatic repertoire.
Herr Alexander Nicholls, Doktorand an der Universität für Musik und Darstellende Kunst Wien, war im Rahmen des Stipendienprogramms der Stiftung Preußischer Kulturbesitz im Jahr 2021 als Stipendiat an der Staatsbibliothek zu Berlin. Forschungsprojekt: "The Violoncellist King: An investigation of late eighteenth-century cello performing practices through the manuscripts and markings of King Friedrich Wilhelm II of Prussia"
https://blog.sbb.berlin/wp-content/uploads/FWII-portrait.jpg
444
940
Susanne Henschel
https://blog.sbb.berlin/wp-content/uploads/stabi-logo-kante.png
Susanne Henschel
2022-03-25 16:20:14
2022-03-25 16:49:20
The Violoncellist King: Discovering the musical world of King Friedrich Wilhelm II (1744–1797) through his music libraries