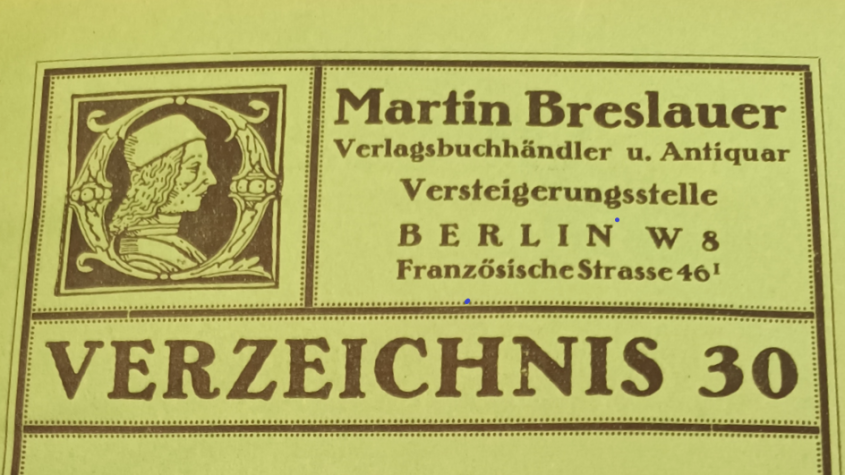 Trading Medieval Manuscripts in Berlin: Martin Breslauer, c. 1900-1945
Gastbeitrag von Dr. Angéline Rais
Nicknamed the 'König der Antiquare', Martin Breslauer (1871–1940) was one of the greatest German booksellers of the early 20th century. Over more than forty years, he gained an international reputation as a skilled and knowledgeable dealer by selling thousands of manuscripts and printed books to buyers all over the world. In 1937, forced to emigrate, he settled in London, where he died in 1940; his wife Margarete and his son Bernd H. carried on the business in Britain until 1977 and later in New York. Breslauer's career offers a relevant case study to my work focussing on the market in medieval manuscripts in the German-speaking countries in the first half of the 20th century.
This research is one of the strands of the CULTIVATE MSS Project (Institute of English Studies, University of London), which explores the values assigned to rare books by members of the book-trade in Europe and America and their consequences for scholarship and the formation of private as well as public libraries.
With the grant awarded by the Stiftung Preussischer Kulturbesitz, in May 2022 I consulted the Breslauer Antiquariat archives (Nachl. 307) in the Staatsbibliothek zu Berlin. This rich collection gathers numerous resources, providing valuable insights into Breslauer's professional activities. Of particular interest to me are materials relating to his business in Berlin, his correspondence with his wife and friends, documentation on some of the libraries he sold, copies of his annotated sale and auction catalogues, as well as his essays dealing with bibliography, manuscript studies, and book-collecting. By studying these archives, I collected useful information to better understand how Breslauer built his successful career as antiquarian bookseller.
Martin Breslauer was born on 16 October 1871 to a Jewish family; his ancestors had moved from Breslau (Wrocław in Poland) to Berlin in the mid‑19th century. Having completed his apprenticeship in the bookshop Volckmann & Jerosch in Rostock, from 1892 to 1897 Breslauer worked for renowned booksellers in Germany, France, Italy, and Britain, including Ludwig Rosenthal in Munich, Joseph Baer in Frankfurt, and Leo S. Olschki in Florence. Spending some years abroad was an essential part of a book-dealer's training to develop language skills and expand his network. In 1898, Breslauer opened a bookshop in Berlin with his friend Edmund Meyer. Together they produced at least ten catalogues until July 1904, when they split the business into two: Breslauer took the items copied and printed before 1760 and Meyer the later books.
The following year, Breslauer established his own business in one of Berlin's main roads, Unter den Linden, in a building close to the then Königliche Bibliothek. This shop is known from two images Breslauer included in his first catalogue, published in 1905. These show two rooms: one, decorated with works of art and fine furniture, where customers could consult the books available for sale; the other, where his celebrated reference library of 21,000 items was stored.
Afterwards, and as the subsequent addresses in his catalogues reveal, Breslauer moved his shop to another famous avenue – Kurfürstendamm – in 1913, before coming back to the historic centre in Französische Strasse in 1917. Until 1936, when he closed his business, he published 52 catalogues, containing approximately 50,000 descriptive records. In addition to inventories offering books dealing with specific topics, such as autographs, bibliography, and German music, Breslauer auctioned several notable collections, including that of his friend, the author Fedor von Zobeltitz, Napoléon and his second wife, Marie Louise, and the Fürstlich Stolberg-Wernigerodesche Bibliothek.
The large portion of archives relating to Breslauer's business in Berlin, such as professional correspondence, acquisition registers, and day sale books, have not survived, making it challenging to understand in detail the workings of his firm. However, the letters he sent to his wife on his business trips help identify the places where he purchased books. One of these indicates that he was in London in November 1911 very likely to attend the sale of the library of Alfred Henry Huth, an English book-collector and founder member of the Bibliographical Society. Having travelled to Britain with some colleagues, Breslauer asked them to sign a postcard for Margarete. Among them were some of the most celebrated German-speaking booksellers of that time, such as Jacques Rosenthal and his son Erwin, Leo S. Olschki, Isaak Halle, Emil Hirsch, and Heinrich Ranschburg.
As well as revealing Breslauer's methods of acquiring books, this source provides rare insights into the workings of the antiquarian book-trade and the relationships between dealers.
Other sources containing great information about Breslauer's working methods are his annotated sale and auction catalogues. By consulting these, I identified 78 manuscripts produced from the 11th to the 16th century which Breslauer offered from 1898 to 1936. These items were books of hours, prayerbooks, historical documents relating to the monastery of St Mauritius in Münster, as well as works by famous authors, such as Albertus Magnus, Saint Augustine, Juvenal, Ludolph of Saxony, and Otto of Passau.
Among these, the provenance history of one manuscript (also reconstructed in the Schoenberg Database of Manuscripts) illustrates particularly well some of the questions examined by the CULTIVATE MSS Project. The book is a portion of Guilelmus Peraldus's religious treatise, Summa (part of book III and book IV only),  written in the 13th century by a monk of the Cistercian Abbey in Kamp in North Rhine-Westphalia. After the suppression of the monastery in 1802, the manuscript was in the library of the theologian Leander van Ess until 1824, when the English book-collector Sir Thomas Phillipps purchased it. In April 1911, Martin Breslauer obtained this book, together with 24 other lots, at the Phillipps auction in London. Two years later, he described it in his catalogue Das schöne Buch im Wandel der Zeit and sold it to Erzpriester Faber of Niesse (Nysa in Poland) in early June 1915. On 11 January 1916, it entered the Königliche Bibliothek through Breslauer, responsible for selling the collection of Faber, who had recently passed away. This manuscript is now  Staatsbibliothek zu Berlin, Preussischer Kulturbesitz, Ms. lat. fol. 795. This case study demonstrates that Breslauer played a pivotal role in securing a rare item for a German customer. When he bought it in London, he knew that this manuscript, produced in Kamp Abbey, was rare evidence of the country's medieval past and would therefore attract buyers interested in its history and cultural heritage.
The consultation of Breslauer's archives has greatly enriched my research on the trade in medieval manuscripts in Germany. As well as having gathered new data providing valuable insights into the sale and circulation of rare books, I have also learnt more about the life of a fascinating Berlin bookseller.
Frau Dr. Angéline Rais, University of London, war im Rahmen des Stipendienprogramms der Stiftung Preußischer Kulturbesitz im Jahr 2022 als Stipendiatin an der Staatsbibliothek zu Berlin. Forschungsprojekt: "Trading Medieval Manuscripts in Berlin: Martin Breslauer, c. 1900-1945"
https://blog.sbb.berlin/wp-content/uploads/Introductory-illustration.png
531
944
Susanne Henschel
https://blog.sbb.berlin/wp-content/uploads/stabi-logo-kante.png
Susanne Henschel
2022-07-20 14:26:31
2022-07-21 10:23:00
Trading Medieval Manuscripts in Berlin: Martin Breslauer, c. 1900-1945