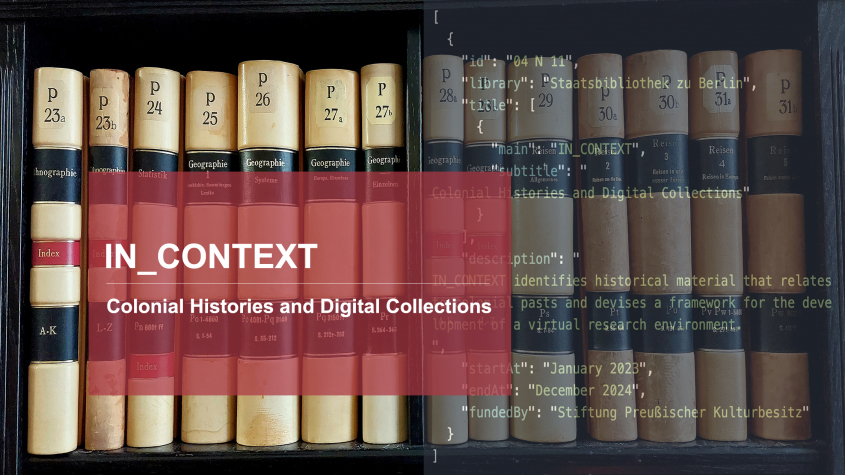 Project kick-off: IN_CONTEXT: Colonial Histories and Digital Collections
IN_CONTEXT is a two-year project with the aim of securing funding to digitise library collections related to colonial histories and to develop a virtual research environment. In the medium term, the virtual research environment is to serve as a central platform to study historical sources by documenting and by making available all relevant collections in Germany and from international partners. The project is based at the Staatsbibliothek zu Berlin (State Library Berlin) and receives funding from the Stiftung Preußischer Kulturbesitz (Prussian Cultural Heritage Foundation).
Debates about coming to terms with colonial pasts have been gaining urgency, ranging from discussions about the restitution of objects in museums to renaming institutions or streets. Cultural heritage institutions increasingly reassess their roles within the history of colonialism. In doing so, their involvement in the global colonial project raises important questions about the shaping and disseminating of knowledges in collections across libraries, archives or museums. Since the seventeenth century, the Staatsbibliothek zu Berlin held a central role in acquiring printed books, manuscripts, personal papers, maps and photographs in Germany. Within this historical context, the project identifies those collections that relate to colonial histories within the library.
With the use of "colonial contexts", the project adopts a comprehensive definition of colonialism. Colonial contexts include those collections that relate to formal and informal forms of colonial rule. They also include collections that reflect colonial or imperial ideologies and practices such as racist notions of cultural superiority over ethnic minority groups and the ways these were used to justify forms of exploitation and oppression.
IN_CONTEXT situates itself in debates about colonial entanglements and aims to contribute to this ongoing process of institutional reflection. As part of these efforts, the project advances reviews of library practices, provides digital access to historical material and devises a virtual research environment in close collaboration with institutions, international partners, and Communities of Interest.
Project goals:
Identifying sources for the digitisation that relate to colonial histories in the collections of Staatsbibliothek zu Berlin
IN_CONTEXT is assessing a source base for digitisation in the collections at the Staatsbibliothek zu Berlin and the potential for future projects across the Stiftung Preußischer Kulturbesitz  and other national and international partners.
Devising a framework for the development of a virtual research environment
IN_CONTEXT is designing a virtual research environment to serve as a hub to sources and collections connected to histories of colonialism. As part of this web-based platform, users will be able to work collaboratively and to examine sources and collections with the help of digital tools. The exchange with experts and knowledge holders connected to colonial material is critical to ensure appropriate data structures and meta-data standards. In doing so, the project seeks to engage debates about ethical implications of data modelling, design development, and accessibility.
Collaboration with representatives of institutions, international partners and Communities of Interest in the collections
IN_CONTEXT is building relationships with networks from heritage institutions and research and societal sectors through workshops, visits and other collaborations. These connections are essential to openly share knowledge about the library's collections and to obtain advice on dealing with sensitive materials and information. In this way, the project team aims to critically reflect on the ethical dimensions of digitising collections related to colonial histories. The project further aims to act as a catalyst for wider studies and engagement with the library's collections and colonial pasts.
Get in touch!
As we are getting underway, we look forward to hearing about suggestions and to having conversations on colonial histories, digitisation, colonialism and the development of digital infrastructure.
Project lead: Larissa Schmid
Research associates: Lars Müller and John Woitkowitz
You can reach us at in_context@sbb.spk-berlin.de.
Project website: https://in-context.sbb.berlin
https://blog.sbb.berlin/wp-content/uploads/banner_rot_untenlinksEN_mitJSON.jpg
1266
2250
John Woitkowitz
https://blog.sbb.berlin/wp-content/uploads/stabi-logo-kante.png
John Woitkowitz
2023-02-15 09:35:01
2023-09-04 14:52:09
Project kick-off: IN_CONTEXT: Colonial Histories and Digital Collections