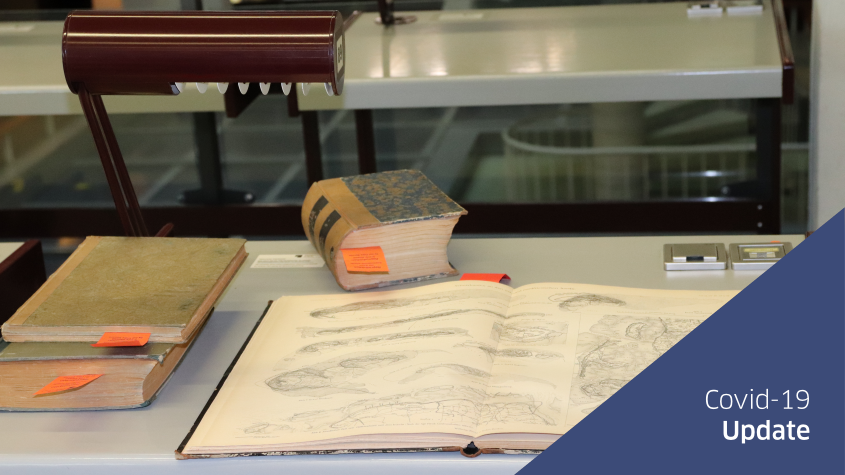 UPDATE: Reading rooms open again
On Monday, 27 July, we took a big step towards normality (Overview of all current services): visiting the reading room landscape at Potsdamer Straße is again possible from Monday to Saturday, 8am – 10pm, however there will be a short interruption between 3pm and 4pm.
Using the reading rooms – after booking a time slot
You may already have booked time slots for short stays at the lending desk and the book collection area, which will continue to be necessary. In addition, you can now book time slots for the reading room. Both bookings are possible via Terminbuchung Vor-Ort-Services (book a time slot – on site services). You choose between booking a Short stay, in order to collect reader cards or library items (without access to the reading room), and booking a desk in the reading room. You have the possibility to book a desk in the reading room for one of the two time slots available each day.
You have the choice between a stay from 8am – 3pm or from 4pm – 10pm. A reservation of both time slots on the same day is not possible, as we want to allow as many readers as possible to access our reading rooms.
We clearly point out that in case of double bookings on the same day we will delete the later time slot.
When your reservation of one of the daily time slots has been successful, it is your decision when within your time slot you come to the library. In order to avoid queuing at the entrance it would be helpful if not all visitors would come right at the beginning of a time slot.
Time slots are released one week in advance for the same weekday of the following week; on Fridays the dates for Saturdays are released as well. Morning slots are released at 9am and afternoon slots are released at 2pm.
During the afternoon closure desks and seats will be cleaned.
A reading room booking also allows you to go to the lending desk or the book collection area in the foyer. However, if you have only booked a short stay, you are not allowed to go to the reading room.
Access control
When you enter the controlled area, please be aware that you have to present your booking confirmation, and please call your name, so it can be checked on a list.
You will receive a small slip of paper, a sort of "Documentation of attendance", which you have to fill out and return when you definitely leave the reading room. Please write on it your name and your library card number as well as the times when you entered and left the library. We also put numbers to the desks in the reading room, so we are able to document your visit. Please write the number of your desk on the slip of paper. Just as in restaurants and other institutions this information is preserved for a period of four weeks and will then be deleted.
Ordering books
Since 1 July it has again been possible to order books and other items to the reading room. This is especially true for the general holdings which cannot be borrowed and taken home, such as for example volumes which were published before 1956. Unlike before the closure, you find these volumes – already booked for you – on the corresponding reserve shelves in the reading room. They are arranged according to the last two digits of your library card.
They will be kept there, first for a period of four weeks.
Currently it is again possible to request a maximum of 10 items at the same time. In total a maximum of 20 items can be requessted to the reading room and 50 items can be borrowed and taken home.
From September we will be using a new lending system. During the time of the changeover, there will be restrictions on ordering and borrowing. The information in detail
Special holdings
Readers can collect items of the special holdings at the reading room desk from 10am to 3pm and from 4am to 8pm (Sat only to 6pm). After 8pm (Sat 6pm) it is no longer possible to fetch these items.
Until 10pm these items can be used at your desk in the special area. After consultation please put them on the return trolley beside the reading room desk.
Desks and seats
In the whole building we have to take care that safe distances are observed. Therefore, for the time being, you cannot use every desk. Available desks are clearly marked and have a seat. Please only use these desks. Desks are cleaned once a day, the same applies to a number of available research desks.
Information
During the day the reference desk is staffed both at the entrance on the ground floor and in the reading room. Staff members are happy to answer your questions on our current services and help you with your search.
Cafeteria
The cafeteria may not be open at this time due to covid-19 containment measures.
Scanning – Copying – Printing
The team of BiblioCopy is available between 12am and 6pm and takes your orders and inquiries.
There is a self-service for scanners and printers during the opening times of the reading room.
For more information and contact data please have a look at the website of BiblioCopy.
https://blog.sbb.berlin/wp-content/uploads/Covid_19_Update.png
950
1690
SBB Blog-Redaktion
https://blog.sbb.berlin/wp-content/uploads/stabi-logo-kante.png
SBB Blog-Redaktion
2020-11-04 12:56:23
2020-11-05 16:11:50
UPDATE: Reading rooms open again